The blender is a loot the player will sometimes be asked to search for.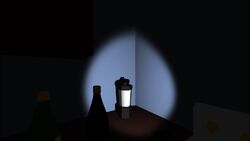 Appearance
Edit
The blender is white with a black/dark grey top.
The blender will always be in the kitchen.
The blender will either be on the counter in the corner between the sink and fridge or in the cupboard to the right of the oven.
Ad blocker interference detected!
Wikia is a free-to-use site that makes money from advertising. We have a modified experience for viewers using ad blockers

Wikia is not accessible if you've made further modifications. Remove the custom ad blocker rule(s) and the page will load as expected.