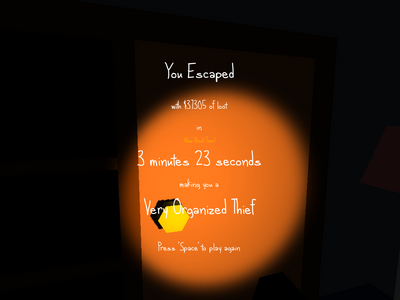 A rank is determined on how many items you stole (including money stacks and seasonal items) and how long it took to steal them.
•Very Organized Thief
•Master Thief
•Professional Thief
•Organized Thief
•Everyday Thief
•Unorganized Thief
•Newbie Thief
•Newbie Intruder
There is a 'special' rank called 'Greedy Thief' in which to get you must steal all of the money stacks in the house and escape.
There is also a rank called 'Marathon Thief' in which to get you must take at least an hour to escape. [[Categorlolol
Ad blocker interference detected!
Wikia is a free-to-use site that makes money from advertising. We have a modified experience for viewers using ad blockers

Wikia is not accessible if you've made further modifications. Remove the custom ad blocker rule(s) and the page will load as expected.