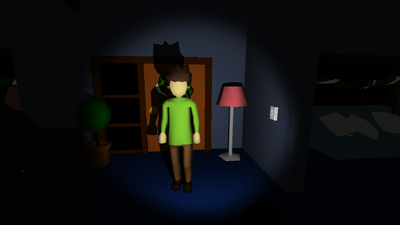 Dacă jocul este jucat la anumite date, proprietarul este înlocuit cu alte entități, în plus, casa în care are loc schimbarea jocului, care se potrivește cu tema datei. Vedeți secțiunea Evenimente speciale de pe această pagină, pentru mai multe informații și galeria paginii.
Appearance
Edit
Proprietarul are părul maroniu închis. El poartă o cămașă verde cu mâneci lungi și pantaloni maro. Cel mai evident, nu are o față. Sexul de proprietar a fost un mister, dar Redefiniton Games, dezvoltatorul jocului, a declarat prin intermediul ask.fm că proprietarul este de sex masculin.
Behavior
Edit
The owner is hostile and will start to become very suspicious if something is out of place or the items were missing. The owner will come home and start coming and watch you (if the player did not reduce the electricity). If he tried the player, he would start their pursuit and try to hit them. If the player is hit three times, they fail and are subjected. The owner can now open doors and closet doors (which in the previous update that he was unable to). If ever, he can sometimes freeze in his position for three seconds if he does not do anything suspicious. The owner will check the 1st floor first and then the last 2.
Există o problemă în care jucătorul ar putea să-l prindă pe proprietar într-un dulap. O actualizare permisă proprietarului să deschidă ușile dulapului, astfel încât defecțiunea a fost rezolvată .
There is a glitch which allows the player to stand on the owner's head. You perform the glitch by waiting for the sounds that indicate the owner is coming home (the car, garage door etc.). Stand right up against the door, where the owner appears. When it enters the house, you will be on top of its head. You can move around, but very slowly. You will be pushed off if you try to go through a doorway.
The owner may become stuck in doorways if lots of items are piled up in it and the owner tries to go through it. He can break free, however.
Sometimes, the owner may completely ignore the player.
An example of this is when The Owner goes to turn on a light in the room that the player is in.
The Owner has been seen turning on the light in the master bedroom (the room with the safe) and walking out again when the player was right next to the closet/cupboard.
He may also ignore the player while doing other things too.
Special Events
Edit
În Ziua Australiei (26 ianuarie), proprietarul este înlocuit cu un cangur cu mănuși roșii de box. Dacă jucătorul nu reușește, jocul de pe ecran va afișa "Ai fost perforat de un cangur!" în loc de "ați fost supus de propietar. Kangaroo poate apărea, de asemenea, în timpul zilei de crăciun și în zile ferier, chiar foarte rare.
În timpul Halloweenului, o actualizare numită "Actualizare SpOOooky" înlocuiește proprietarul cu un Grim Reaper cu coasă. În acest caz, sosirea acestui stăpân înspăimântător la domiciliu este întâmpinată cu ciudată muzică, în timp ce o furtună începe în afara jocului. Când jucătorul este prins de Grim Reaper, în loc de mesajul obișnuit de joc ☃☃: "Ai fost supus de proprietar", mesajul va spune: "Secerătorul ți-a condamnat sufletul!".
References
Edit