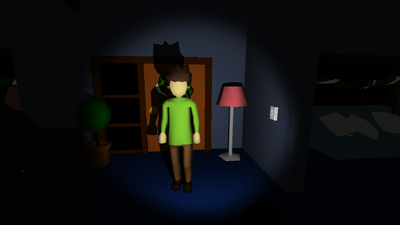 Proprietarul deține casa și obiectele pe care le furați. Proprietarul va încerca să te supună dacă te vede, asta înseamnă că trebuie să fugi de el sau să te ascunzi de el. Aveți posibilitatea să aflați proprietarul care a ajuns la domiciliu utilizând un vehicul care se oprește în afara casei, proprietarul care rulează (sprintul), proprietarul răsturnând cheile și deblocând ușa. Când Proprietarul se întoarce acasă, nu este posibil să îl opriți pe proprietar să intre în casă și să nu puteți ieși din casă de la orice ieșire în timp ce proprietarul este afară. Indiferent cât de multe bani aveți sau câte elemente aveți, vă veți putea scăpa. Dacă se declanșează alarma, proprietarul se va întoarce acasă știind că cineva încearcă să-i jefuiască.
Appearance
Edit
Se pare că este un adult tanar caucazian, cu o tunsoare maro și dezordonată. El poartă o cămașă verde cu mâneci lungi și pantaloni maro închis. În timpul evenimentelor sezoniere, el poate fi cel mai sumbru secerător în timpul Halloweenului, un cangur de box în timpul Australiei, dar numai aspectul său normal la Crăciun și Paște împreună cu toate celelalte zile.
Behavior
Edit
The Owner is brave enough to subdue anyone who will try rob them and will start to become very suspicious if something is out of place or an item is missing. The owner will come home and start coming and watch you (if the player did not reduce the electricity). If he sees the player, they'll start their pursuit and try to hit them. If the player is attacked 2 times within a short time, they are subdued and are forced to restart. The Owner can now open doors and closet doors (which in the previous update that they were unable to). If ever, they can sometimes freeze in they're position and look around for three seconds if the player does not do anything suspicious or move. The owner will check the 1st floor first and then the second floor.
When the Owner enters the house the door will not open, the owner will instead clip through the door.
There is a glitch which allows the player to stand on the owner's head. You perform the glitch by waiting for the sounds that indicate the owner is coming home (the car, garage door etc.). Stand right up against the door, where the owner appears. When it enters the house, you will be on top of its head. You can move around, but very slowly. You will be pushed off if you try to go through a doorway.
The owner may become stuck in doorways if lots of items are piled up in it and the owner tries to go through it. He can break free, however.
An example of this is when The Owner goes to turn on a light in the room that the player is in.
The Owner has been seen turning on the light in the master bedroom (the room with the safe) and walking out again when the player was right next to the closet/cupboard.
The Owner would not see you if you are in a certain room.
References
Edit